Product
20L Vibrating Material Feeding Machine + Stirrer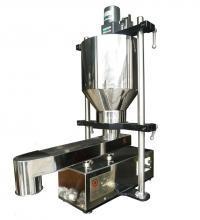 Product ID: RT-VF02A
The machine is suitable to be used with Oil Crops Grinder or Vertical Grinder to save the manpower and improve the production efficiency.
Advanced version of RT-VF02 with an add-on of a stirrer.
Addtional option: Machine Stand
Specifications:
Power:100W+Disturbance Motor 15W
Voltage:110V/Single Phase

The voltage can be appointed according to the user's demand

Storage Trough Capacity:11 LITTER
Machine Dimension (L*W*H mm):650*390*808
Weight:60KG
The pictures of the products are used in reference only and the specifications are based on actual product.
Features:
Design for improving efficiency.
Feeding rate is adjustable.
Storage capacity and Feeding trough designed for easy cleaning.