Product
Safety Switch High-Speed Pulverizing Machine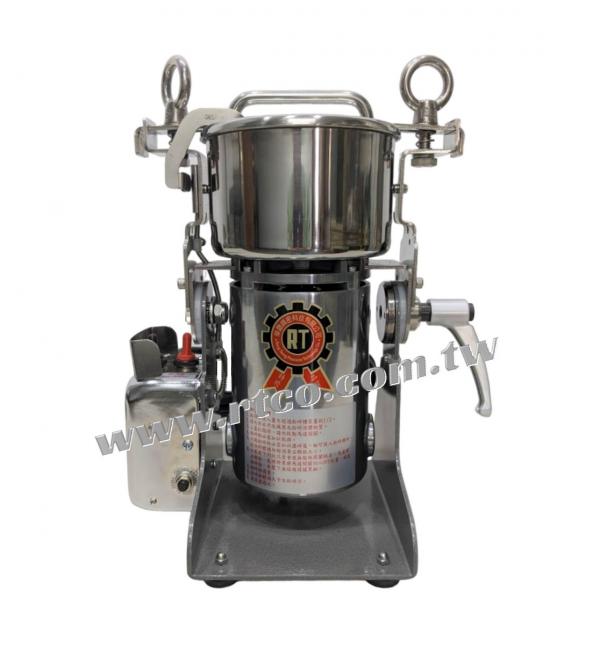 Product ID: RT-N06SF
The machine is suitable for grinding small amount of material into particles from 150 to 200mesh and is the best choice for university, pharmaceutical factory, agriculture and laboratory.
Specifications:
Power:1200W
Voltage:110v/Single Phase

The voltage can be appointed according to the user's demand.

RPM:25000
Grinding Trough Size (H*D mm):85*132.5mm
Machine Dimension (L*W*Hmm):240*220*370mm
Weight:8.8kg
Capacity:590cc
Full Cap.:1180cc
The pictures of the products are used in reference only and the specifications are based on actual product.
Features:
The best choice and most popular product which meets the average user demand.
Suitable for small capacity grinding, separating, mixing, and industries for example:herbal、Chinese herbal medicine、pharmaceutical、agricultural、chemical and laboratories...etc.
Motor rate is 25000~30000r.p.m.The fineness of powder can reach 200~250 mesh based on different characteristics.
Dried ingredients only.
Note:
According to the different characteristics of materials, the fineness of the particles would differ.
Fill only half of the grinding trough for each batch of ingredients.
Do not allow the grinder to grind materials over 30-45 seconds each time, repeat grinding action until the fineness reaches user's demand.