Product
1HP Stainless Steel Air Classification Powder Grinding Machine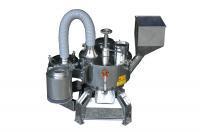 1HP Stainless Steel Air Classification Powder Grinder Machine
Product ID: RT-MO10S
The machine is suitable for grinding Chinese medicinal herb and chemical material into 150mesh to 200mesh. The production speed will be faster if it is used with the vertical grinder. It is the best choice for producing the Chinese medicinal herb powder.
Features:
The best choice for Chinese herbal medicine, material within fiber ex: coconut grinding to get higher mesh of powder.
Applied for industries for example:herbal、Chinese herbal medicine(American Ginseng、Ginseng、Liquorice...etc)、pharmaceutical、agricultural、chemical and laboratories...etc.
The rotation rate of grinding axle islow so that it does not produce high temperature when grinding. It is suitable for heat-sensitive material ex: sugar.
The fineness of powder can reach 150~200 mesh based on different characteristics.
The powder adhere to sieve is not occurred when grinding.
Safety design for example power supply is close when pulverizing lid is open.
Vertical High Speed Grinding & Pulverizing Machine collocation can increase efficiency and product output.
>>>Machine prohibited range and warranty description
Please do not use machines that are manufactured/sold by our company to grind/mix ingredients that are dangerous, explosive, flammable, conductive etc. to prevent user injury. If incident happens, it will not be related to our company.
Machines that are manufactured by Rong Tsong provides a one-year-warranty under normal usage. Consumables are not included in the warranty.
Under normal usage, machines will be provided free mantainence during warranty period(Does not include transportation/freight charges)
If there is any problem with the machine, please contact our company first to inform us regarding the machine malfunction. (Working hours: Monday ~ Friday. 8:00AM~12:00PM ; 1:00PM~5:00PM. Off on the weekends)
No matter if the machine is still within the warranty period or not, charges required for the machine to be send back to our company for mantainence/repairing will be covered by the user's side.