Product
Stainless Steel Type Double Ribbon Mixer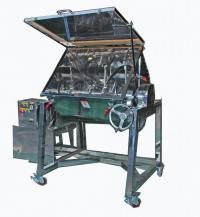 Product ID: RT-UM100S
High Efficiency Mixer and applied for large capacity, various powder mixing
Specifications:
Power:3HP (with 1:15 reduction gear、inverter)
Voltage:415V/Three Phase

the voltage can be appointed according to the user's demand.

Rotation rate of ribbon:0~60 rpm
Total capacity of mixing trough:100L
Total effective capacity of mixing trough:175L
Mixing Dimension (L*W*H mm):900*700*700mm
Machine Dimension (L*W*H mm):1900*1100*1350mm
Weight of machine:400Kg
The pictures of the products are used in reference only and the specifications are based on actual product.
Features:
The First choice mixer used in large capacity in the industry.
Applied for all kinds of powder mixing even within liquid.
Made of stainless steel(SUS304)which reach sanitation standard by polishing treatment.