Product
1HP Airtight Powder Grinding Machine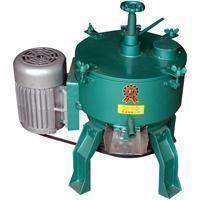 1/2HP Airtight Powder Grinding Machine
Product ID: RT-MC
The machine is suitable for grinding Chinese medicinal herb and chemical material into 150mesh to 200mesh. The production speed will be faster if it is used with the vertical grinder. It is the best choice for producing the Chinese medicinal herb powder.
Specifications:
Power:1HP
Voltage:220v/Single Phase

The voltage can be appointed according to the user's demand.

Capacity(KG/HR):1-2
Output Size:150MESH
Machine Dimension (L*W*H mm):750*750*700
Weight:100KG

The pictures of the products are used in reference only and the specifications are based on actual product.
Features:
The best choice for Chinese herbal medicine grinding to get higher mesh of powder, especially glossy ganoderma grinding .
Applied for industries for example:herbal、Chinese herbal medicine(American Ginseng、Ginseng、Liquorice...etc)、pharmaceutical、agricultural、chemical and laboratories...etc.
The rotation rate of grinding axle is low so that it does not produce high temperature when grinding. It is suitable for heat-sensitive material ex: sugar
The fineness of powder can reach 150~200 mesh based on different characteristics.
The powder adhere to sieve is not occurred when grinding
Safety design for example power supply is close when pulverizing lid is open.
Vertical High Speed Grinding & Pulverizing Machine collocation can increase efficiency and product output.